Products
NBR Supported
Style No. 1411-E [PolarFlex CF]
Description;
Liner: Fluffy Cotton
Coating material: Nitrile
Size: 7/M, 8/L, 9/XL, 10/XXL
Country of origin: Japan
Applications;
Handling frozen foods, machine parts and oily objects/ Deicing vehicles and aircraft/ Fishery/ Working in cold storage warehouse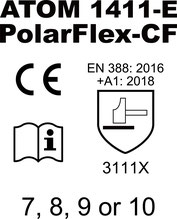 Features;
Our original Anti-Freeze NBR offers excellent flexibility and dexterity till -22°F(-30°C).

Note: Glass transition point of NBR for traditional NBR working gloves is at 32°F(0°C).

Usually, NBR freezes under water freezing point(0°C) and then frozen NBR loses the characteristics with flexibility in itself.

ATOM succeeded in developing the Anti-Freeze NBR®, which does not freeze till -22°F(-30°C), first in the World for working gloves.

Anti-Freeze NBR offers resistance to oil and some chemicals with grip.
Sanitized to avoid the glove becoming moldy and developing nasty smell.
Cotton fluffy-lined No. 1411-E offers comfortable and warm in use.